This cool "glow in the dark" Self-Luminous in the dark car track set with toy cars will be loved by all car lovers!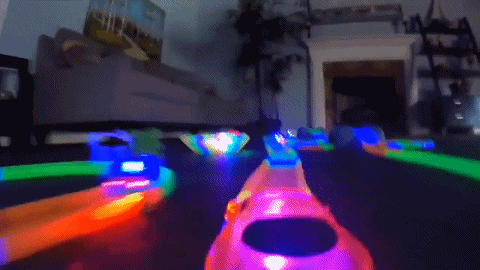 Your child will love this car track because it has unique effects! Build the track and turn off the lights to see how the track glows in the dark and how the fast cars drive through it. The small parts of the car track have different colors that shine beautifully. The cars have LED lights for maximum awesome effect!
Glow-in-the-dark car track with toy cars – flexible and easy to put together. Your child can build the track to their own liking. The car track pieces can be swung and bent so you can easily build curves and down and up hills. The track is very flexible and bendable!
Your child can create their very own track and experiment, perfect for developing their imagination and creativity. To make the game even more fun, it comes with a bridge, two road signs, two cars, two wood, and a race track that is young. 5 meters and 48cm long.
Glow in the dark car track with toy cars, specifications:
The set consists of 320 pieces

who is young. 5.48m long.

Two cool toy cars, one red and one blue.

A bridge

Two wood

Two road signs

The toy cars are powered by 2 AA batteries.

The material is durable ABS.

Recommended for children from 3 years of age.
If you like this product then you will love our Dino race track click here!